Poet, translator, editor, scholar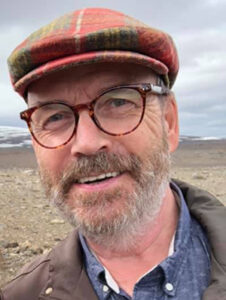 Born in Reykjavik, Iceland, Garibaldi has published seven volumes of poetry since 1983, and translated poetry, short stories and critical works. He holds an MA degree in Comparative Literature from the University of British Columbia, Vancouver, Canada.
Garibaldi has published poetry and short stories in newspapers and magazines, both in Iceland and abroad, along with articles on literature, as well as translations of critical articles and books on literature and literary theory.
A proud father of three children, who now are around thirty years of age,
Garibaldi
became an acitivist for fahters' rights around the turn of the century. Subsequently,
Garibaldi
became known for his sharp spokesmanship for the rights of children and fathers as the chairman of the Icelandic Association of Responsible Fathers, now
Foreldrajafnrétti
(Equal Parenting).
Garibaldi
has also done some literary work in that field while fatherhood and his struggles with that role are also important topics in many of his literary works.
Garibaldi's poetry evokes the road-poetry of the fifties showing his mastery of language and imagery. Dealing with nature and technology, the diversity of city life, and the relationship between people, his poetry frequently originates in his own life, invoking memories and scenes ranging from Vancouver BC to Reykjavik and the Westmann Islands in Iceland. Topics include the death of a sailor in the caboose of a fishing boat, childhood reminiscences, a father working in a fish factory, philosophical wonderings on God and faith, art, love and happiness. His short stories demonstrate great insights into relationships between the sexes, erotic as well as in other respects, while the subject matter varies in nature.
Two of his most recent books of poetry are based on his trip to China (beautiful tiny friends, ornaments of the earth 2019) and on the life story of a man living with violence in his youth and adult life, which ends when he drowns at thirty one ((holy) gusts of hell 2020).
Garibaldi's manuscript for horizons won a special recognition by the Tomas Gudmundsson Prize in Literature in 2000.
Works by Garibaldi
Titles of original works in Icelandic are translated into English.
(holy) gusts of hell 2020
beautiful tiny friends, ornaments of the earth 2019
a boy's enthusiasm 2007
orange wings (of madness) 2006
Cape Town 2005
could the city not be a sheet of ruled paper 2003
horizons 2000
retinas 1997
A Journey through Darkness 1983
Fiction
Fatherhood and Other Stories 2015
Critical work
Woodcutter, Deities, Self. Articles on literature (1987-2013) 2015
Manual
Contemplating Divorce? A Manual for Fathers Considering Divorce 2006
Translation of fiction
Caged Birds. African–American Poetry (selected and translated by Garibaldi) 2021
A Maze of Gazes. Selected Poems 1997-2007 (auto-translation into English) 2017
Blood on Canvas (poetry by British and American authors) 2008
Hikaru Okuizumi The Stones Cry Out 2007
Christopher Nolan Under the Eye of the Clock 1988
Maya Angelou I Know Why the Caged Bird Sings 1987
D.H. Lawrence The Fox and Other Stories 1985
William Golding The Inheritors 1983
Translation of critical books
Jacques  Derrida Eperons. Les styles de Nietzsche 2003
Naomi Rosenblum Trends in American photography, 1890-1945 1999
Editorial work
Iceland Song/Image: Canadian-Icelandic Literature from 1870 to the Present (a selection of poetry and prose written in Icelandic and English – the English translated by Garibaldi) 2006
Michel Foucault Le Panopticism, pouvoir et savoir (a selection) 2005
Christian Metz Le Signifiant imaginaire: Psychanalyse et cinéma 2004
Fathers and Children in the New Century 2003
Terms of Contemporary Literary Theory (experimental edition; with others) 1996
Traces in Literay Theory of the 20th Century: From Shklovsky to Foucault (articles – Garibaldi translated two; edited with others) 1991
Isms: Marxism and Realism (with others) 1990
Honours and Awards
Creative Writing and Translations
A grant from Icelandic Literature Center in spring 2020 to translate and publish Fuglar í búri. Ljóð eftir afrísk-bandarísk skáld, (Caged Birds. African-American Poetry), published in March 2021.
Artist's salary for three months in the summer of 2020 to work on his autobiography, "The Dream Dwells", a work in progress; publication is scheduled for 2022.
A grant from the Writers' Fund of the The Writer's Union of Iceland, in spring 2019, to complete smávinir fagrir foldarskart (beautiful tiny friends, ornaments of the earth), a book of poetry, published in November 2019.
A grant from the Iceland Translation Fund to translate the novel The Stones Cry Out by Hikaru Okuizumi in 2007.
Grants from Hagthenkir – The Association of Non-fiction and Educational Writers,  The Iceland Culture Fund, and the Iceland Translation Fund in 2005 to edit and translate (parts of) Íslandslag. Íslensk-kanadískar bókmenntir frá 1870 til nútímans (Iceland Song/Image: Canadian-Icelandic Literature from 1870 to the Present), and subsequently to visit Canada and present the book there, after publication in 2006.
Special Recognition of the Tomas Gudmundsson Prize in Literature for horizons (poetry) in 2000.
Research and Studies
A grant from Rannis. The Icelandic Centre for Research, for a study of subjectivity in 20th Century Icelandic Literature, in 1999.
UGFs at the University of British Columbia, Vancouver, Canada, all his years at UCB, 1990–1995, to study comparative literature.